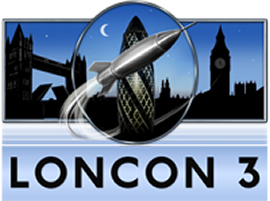 LonCon 3 was the largest convention I've been to this year and the one with the most relentlessly varied, and huge, program. In the space of 3 days I recorded a live podcast, moderated a panel, sat in on several other panels, met some of the best people in the field and realized I couldn't discuss this in a single column. So, below is a look at the structure of LonCon 3, what it did well, and what it didn't. My personal experiences will be in the next column along.
I'd go get a coffee.
You've got time.
What was the shape of LonCon 3? A couple of years ago my friend Pablo Cheesecake described Edge Lit as a little like being inside his Twitter feed. LonCon 3 was a little like holding your twitter feed in front of your face and letting the information smack you in the face for three straight days. It was an intense, for the most part incredibly positive experience.
Continue reading "Not The Fox News: The Long Con: LonCon 3 Part 1"